Video Starts By Vilifying Autism
The video here claims to be the work of #AutismSpeaks, a controversial organization that advocates in the autism realm. The entire first half of the vignette depicts autism as taking delight in ruining lives. For instance, it says "I will make sure your marriage fails," and "I will bankrupt you for my own self-gain."
The second half is bursting with optimism. It celebrates the united front of parents, care givers, scientists, neighbors etc. to overcome the challenges of autism. Bright and cheery stuff. Empowering too. Still, it does present a pro-cure point of view, versus a "right-to-life as it is" perspective, which bothers many autism supporters.
Second Half Of Video Doesn't Make Up For First Part
Unfortunately it may be hard for the viewer to discern in the dark portion whether the announcer's threatening words are being spoken (in cruel, taunting tone, for good measure) about autism in general, or about the innocent people with autism the video repeatedly cuts to. I can certainly understand why someone like @Olleydwards would react strongly. Here's what she tweeted this morning: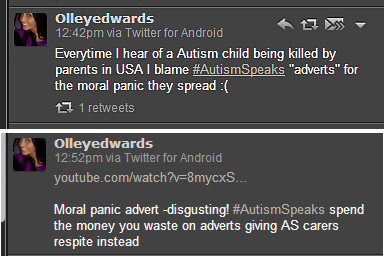 The commercial goes on to say "Your scientists don't have the resources and I relish their desperation." Also "I derive great pleasure out of your loneliness"  and "I will fight to take away your hope." In essence the entire first half of the three minute plus demonizes autism, as if the people who actually live with the condition are horrible.
My personal opinion? As soon as the video slips from factually commenting on the effects that autism can have on families, into personifying it – turning it into an evil entity that thrills in destroying the lives of others – it becomes an attack ad. If it had just stuck to the basics it could have been acceptable. But by conflating video scenes of sweet autistic people voiced over with taunts that they are sucking the life out of you, and delighting in doing so, this ad – is not only in very poor taste, but also hateful.