My initial #pre-marketing efforts are bearing fruit. As a novice novelist-in-process I consider Twitter a key social media property. @MarkDSwartz is gaining some traction. Here's how I increased twitter organic impressions 2,000 percent over a 28 day period, May to June 2017.
Not Starting From Scratch
Note that I'd worked like crazy with the group #ASMSG back in late 2013 – mutual follows, likes, etc. – when I first thought I'd have time to shift from non-fiction author to #novelist. But my Twitter account had lain dormant for years till recently.
My strategy now is to post interesting or controversial-but-supportive Tweets about issues, groups and events pertaining to my book's content. Went from almost no response to averaging 400+ organic "impressions" daily this past week, and growing.
How I Made It Happen
How did I do it? First, I start with about 1,850 Followers on Twitter, who hadn't heard from me since late 2016 (a couple of times), and not before that since 2014. Hardly an energized base. But a base nonetheless. Hence don't expect a magical leap in viewership without a targeted following to activate.
To cull my audience, and increase my ratio of people Following me vs. those I Follow, I used a paid version of Tweepi (Tweepi.com). Silver membership costs me about $10 u.s. a month. It enables me to track who I follow, who follows me, when I first followed them, and whether they follow me back.
To cut down on the number of people I follow needlessly, I used Tweepi's feature that identifies everyone I follow who doesn't follow me back. That number was well over 500 at the start of May 2017. It was easy to de-follow hundreds of those. Either they were no longer germane to my content or had been inactive for more than a few months (some more much more than a year).
Follow People And Groups Related To Your Content
Then I started following about 150 new people (or groups) directly related to my novel. They are either novelists themselves, or involved with:
Down Syndrome
Intersex Condition
Religious American patriots
Human Rights groups and advocates
Book Reviewers
Also I looked for the above folks who had fairly balanced Follow ratios. That way I had a better chance of them following me back.
I Need Many More Targeted Followers
Soon I will need to actively (read: aggressively) try to increase my number of relevant followers. That in turn will lead to more Twitter impressions, and greater interaction with my posts. So far reader growth is slow (fewer than 60 new followers in past 28 days). But a few fantastic ones have followed me without me even following or prompting them in any way. Here are two from a few days ago: Harper Collins Canada (one of our major publishers!) and Amnesty UK, LGBTI human rights group. Perfect.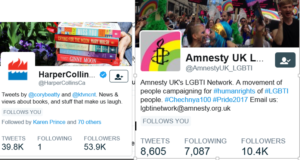 How about you: are you using any Twitter techniques that are achieving above-average results? I'd like to hear about them and share with others. Also if you follow me on Twitter and mention this post I'll be sure to follow you back.  🙂