Down Syndrome Beauty
Asher Nash is a beautiful 15 month old child. His parents felt he was so adorable they submitted his photo to a talent agency that was looking for kids to represent OshKosh in advertisements.
The agency did not present Asher's photos to their client. Emails appear to reveal that they were concerned about using a special needs child, even though Asher looks like any typical child in his beauty shots…like this one: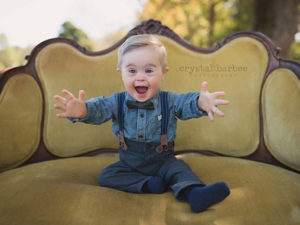 "For me that's just the beginning of the controversy. What strikes me most here is that in the beauty photos, little Asher is being selectively depicted as just another gorgeous infant. I had no idea he was anatomically or neurally atypical until I read the article below. My comments appear in green text italicized quotes throughout."mds
National Post Aileen Donnelly October 26, 2016 Last Updated: Oct 27 9:08 AM ET
More from Aileen Donnelly | @aileendonnelly
Crystal Barbee Photography / Instagram 
Asher Barber wants to "change the face of beauty," his mother, Meagan, says.
Asher Nash loves the camera.
But a talent agency dashed the 15-month-old's modelling dreams when it refused to consider his photos for an open casting call for OshKosh B'gosh. The only reason? Asher has Down Syndrome.
Facebook:
Asher Nash with his parents in an undated family photo.
Last summer, Meagan Nash sent her little boys photos, which were taken by photographer Crystal Barbee, to a Georgia talent agency. The unnamed agency refused to submit Asher's photos to the clothing company because, although he was the right size and had the right eye and hair colour, he didn't fit the casting criteria, CNN reported.
The broadcaster reviewed email exchanges between Nash and the agency which confirmed that although OshKosh had not specifically said it did not want to use a child with special needs, the agency had assumed the company would not be interested in a model with Down Syndrome.
"I have not seen the full compliment of photos that Asher's parents sent to the talent agency. However if the pics by Crystal Barbee only pose this tyke with little trace of his Down Syndrome, then isn't this a case of hiding the differences instead of celebrating them? I wonder about Down Syndrome beauty having to be normative."]mds
Frustration
Frustrated by the agency's response, Nash shared her story, and adorable photos of Asher looking dapper in a navy and white striped bow tie, to the Changing the Face of Beauty Facebook page earlier this month.
"We aren't giving up! This handsome boy is ready to show the world what #changingthefaceofbeauty is," she wrote.
Her story was reposted by the Kids With Down Syndrome page on Oct. 11 and it has since been shared more than 125,000 times — turning Asher into a social media star.
All the attention even prompted OshKosh B'gosh to invite Asher to a private meeting next week.
"We look forward to meeting with Asher and his family, as well as taking steps to enhance the representation of diverse children in our marketing," the company said in a statement to ABC News.
"It's nice that OshKosh is responding in a positive way. However given the exposure that Asher's parents have generated for their son, the company would have been seen as cruel and discriminatory if they hadn't at least agreed to consider the little boy as one of their models for an upcoming campaign. Does this diminish the good this will do for the community of children who 'look different?'"mds
Nash told CNN that her goal was never to force OshKosh to use her son in an advertisement "because of this fuss we are making on the Internet." She just wants her son to have a fair chance.
"Anytime the camera is around he always gets a big grin on his face like he knows it's time to smile," she told CNN.
Even if OshKosh doesn't end up using him, she's happy that their story has brought attention to special needs children during Down Syndrome Awareness Month.
"Great comment by the mother. She really has created additional awareness of Down Syndrome, which affects about 1 in every 670 or so children born (North American statistics). The parents' advocacy for their son is admirable in this regard."mds
"It's important to feature people with special needs in advertisement for three reasons. The first reason is inclusion. People with disabilities want to be included amongst their peers in life in general and being seen in advertisement is a part of that," Nash told CNN.
"The second reason, which is very near and dear to my heart, is acceptance. Without truly accepting my son and others with special needs, there can be no inclusion for them in the future.
"And the last reason is respect. Using people with special needs shows the world that these people have value and worth just like any typical person does."
My Final Word
mds
"Here's where the mom's argument is iffy, in my opinion. Asher Nash indisputably looks beautiful in most of the photos: "beautiful," that is, in the typical, normative sense. But what about the photo above in which the parents are holding their child, where Asher looks like an infant who clearly has Down Syndrome?
Is OshKosh (or any other firm that markets its wares primarily to non-special needs audiences) prepared to show the child in all his spectacular, natural glory, with the standard facial features of someone with the condition?
Because if not I interpret that as hypocrisy. Sure we'll use your special needs child as a model, but only if they don't look weird, or unattractive, etc.  That would not exactly #changethefaceofbeauty. Same for the mom. Yes society should be embracing atypical people more fully. However if this depends mainly on fitting in to accepted norms of appearance, then it diminishes the uniqueness – and  intrinsic value of simply being alive – for those with special needs."
mds
Topics: Life, News, World, Asher Nash, Editors' Choice, Meagan Nash, OshKosh B'Gosh
Note from MarkDSwartz (mds): My fair use of the copyrighted material in this post is protected under the policy of Fisking, wherein I have provided original commentary, review and criticism.